Intramural Championship ends in stunning fashion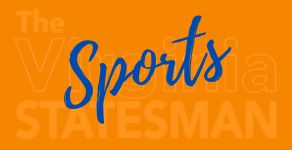 On April 20, 2023, Virginia State University held its annual Intramural Basketball Championship hosted by the students of Foundation of Sports Management. The spectacular night began with two separate contests: a dunk contest and a 3-point shooting contest.
The dunk contest was dominated by Stephan Morris who won with a 360 Windmill. The 3-point shooting contest crowned its three time champion Bryce Pitt.
As the night entered its main event, a lively crowd was welcomed with a striking contest between "Money Team" and "The Veterans."
The Veterans lead the charge throughout the night with a triple threat: Kennedy D., DeAndre Miles, and Upton Bailey. Kennedy D.(11 pts, 5-12 fg) would start the Veterans with an early attack with a borage of 3-pointers. DeAndre Miles(14 pts, 6-10 fg) would take charge in the second half with a stellar performance from behind the arc. Upton Bailey(15 pts, 7-11 fg) would lead the Veterans as the leading scorer with his relentless assault on the rim.
In the midst of the Veterans seemingly deadly combinations, the Money Team managed to counter every run of the Veterans while executing effortlessly. Money Team utilized a dynamic duo to execute their offense: EJ Washington and Stephan Morris. EJ Washington (20 pts, 8-14 fg) would pose an uncomfortable task for the Veterans with an array of combination to score. Stephan Morris (26 pts, 12-18 fg) would leave a dominating performance anchored near the rim, resulting in leaving the Veterans baffled on how to contain such a posing presence on the court.
Money Team would close the show out with a win of 70-62, ultimately, crowning themselves the Virginia State University's 2023 Intramural Basketball Champions.