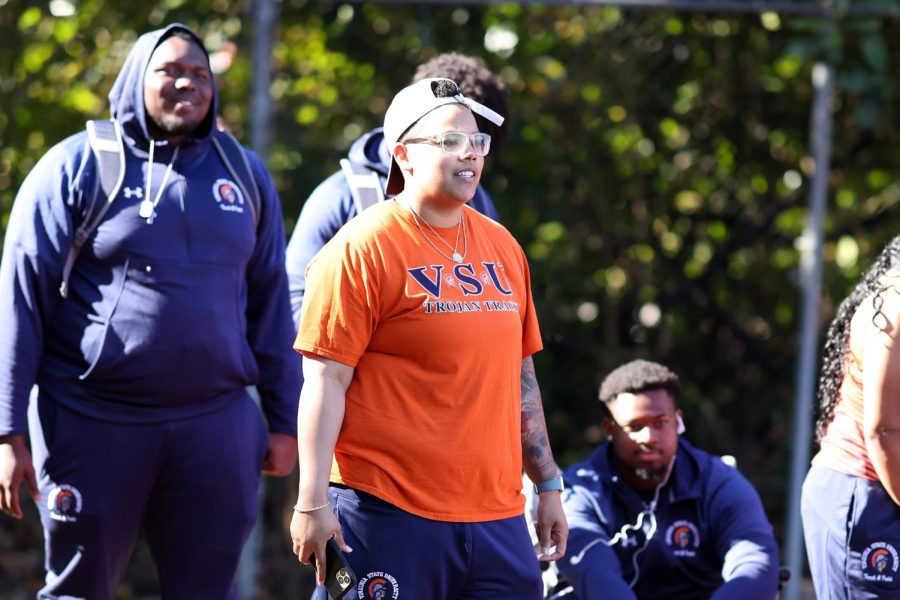 Her coaching career is her livelihood, yet it all started with her intense supremely competitive career.
Ashley Dewitt is the throws coach at Virginia State University. In her five years here the men's team has won two championships. The throws squad consistently racks up points during conference meets and she has taken a couple athletes to nationals. Her accolades are extensive but before her successful coaching career, she was a successful multi-sport athlete.
"When I was in high school all I did was play basketball, and I was pretty good. One year we went 26-0 and won states. My junior year we lost in sectionals, and I didn't know what to do with my time, so two of my teammates and I decided to go throw because we didn't want to run."
Dewitt started off as a basketball player and fell in love at first shot. Her decision was not that tough for her to make; she had a natural gift for throwing and colleges noticed. Her first year of throwing, she received an offer from Nebraska University. She knew she could go where she wanted the only problem was her grades.
"Unfortunately, I didn't take school too seriously and I had around a 1.9 GPA, and I was just going to go to the military because the rest of my family is military. In total, I had 225 letters of interest, not actual offers. The way it worked was they had a sliding scale based on SAT scores. Based on my scores I could only go D2, so when my cousin took a recruiting visit to Tiffin University, I went along and got picked up by them then."
Throwing at Tiffin, Coach Dewitt made a name for herself as she became a four time All-American in the GLEAC, which at the time was the hardest D2 conference in the nation. At the same time, she was also studying to run the market. In the future, she wants to run all the sports.
"I earned my Master's in Business Administration, and I have my concentration in human resources because that's what my mom does. I didn't know I was going to be a coach but if I could go back, I would get my degree in Sports Administration. At the end of the day, when I get tired of coaching, I want to be an athletic director."