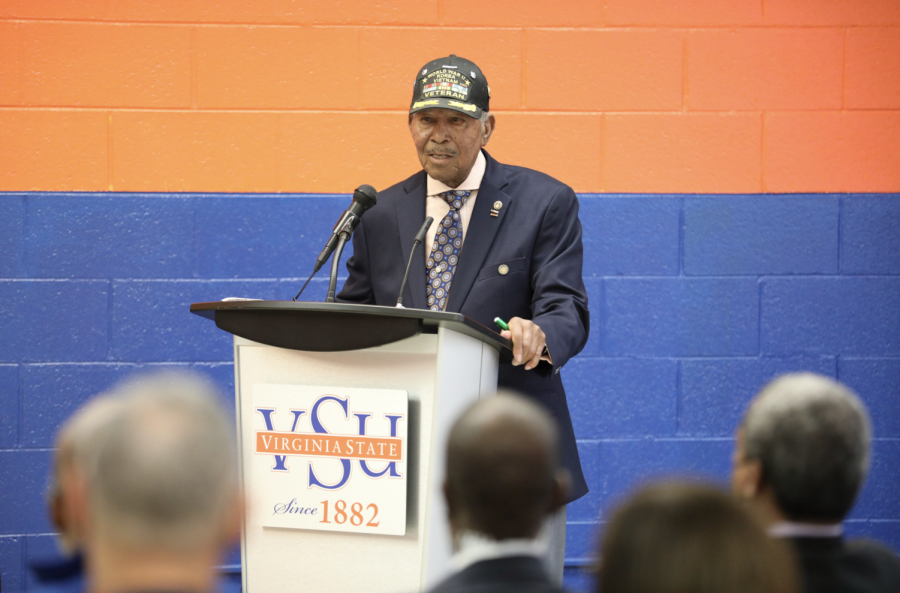 ROTC honors Lieutenant Colonel Jona McKee on his birthday
Virginia State University Alumnus and former Professor of Military Science (PMS) Lieutenant Colonel Retired Dr. Jona McKee was honored and celebrated on campus on Thursday, March 31st. It just so happened that it was his 94th birthday.
Dr. McKee was surprised to see so many former students and colleagues waiting for him as he turned the corner of the Jesse Bolling Hall , the University's ROTC building, to check on the room that has his name on it honoring the former professor.
"It's been a joy since my twin brother and I walked onto the campus here, because we did visit three other universities before we made up our minds," Dr. McKee said. "It was a perfect match coming out of World War II. We knew we wanted to go to college, pick a school that offered military science, ROTC. Upon graduation you could get two things: you get a degree and then you get a second lieutenant's bar."
As a professor of military science, Dr. McKee increased the enrollment by more than 100 percent and commissioned more than 260 officers of which 28 were distinguished military graduates. According to an article published in 2017 on the govsutrojans.com site, three of his graduates have earned the rank of General Officer to include GEN(R) Dennis L. Via, former Army Materiel Command Commanding General, and MG(R) W. Montague Winfield, former US Army Cadet Command Commanding General. He served as a personal mentor to GEN(R) Dennis L. Via.
"During World War II there were two armies… the Black army was commanded mostly by white officers," Dr. McKee said. "I told my twin brother, we can be officers too, so we need to select a school where we can finish."
Dr. McKee and his brother chose Virginia State University, and VSU definitely benefited from the relationship.
"When I retired in 1979 I felt like we had accomplished a lot at that time because at that time when I left here they had a cadet corps of 500," Dr. McKee said.
McKee's family was one of the reason's why he had so much success with ROTC here, and also why he felt it was important to involve women in the program – even though it was quite ground-breaking at the time to admit women. In fact, Dr. McKee was the first to admit women.
"I come from a family of 17… we had our own little army," Dr. McKee said. "My oldest sister had served during World War II as an X-ray technician. I had eight sisters, so I had a lot of respect for ladies. But in 1973 there was still a lot of debate about letting women into ROTC," Dr. McKee said. "In 1974 the first women enrolled."
In addition to his major influence over the ROTC program at VSU, he also contributed to Trojan Athletics.
Lt. Col. Dr. McKee has raised more than $1 million for VSU programs. He founded the VSU Athletic Boosters Club in 1963 and served as its president for 41 years.
Dr. McKee earned his bachelor's and master's degrees from Virginia State College (now university), was presented with an honorary doctorate degree during VSU's spring 2021 commencement ceremony, lettered in football, track and baseball. He served as a combat leader in World War II (as a sergeant), Korea and Vietnam.
Donate to The Virginia Statesman