After Virginia State's win against Norfolk State University on September 2, students and fans are more ready than ever to hear about the upcoming games.
With Homecoming right around the corner and the Trojans' first two wins of the season, one coming against a big rival during the "Labor Day Classic," the Trojan football team has come out of the gate swinging.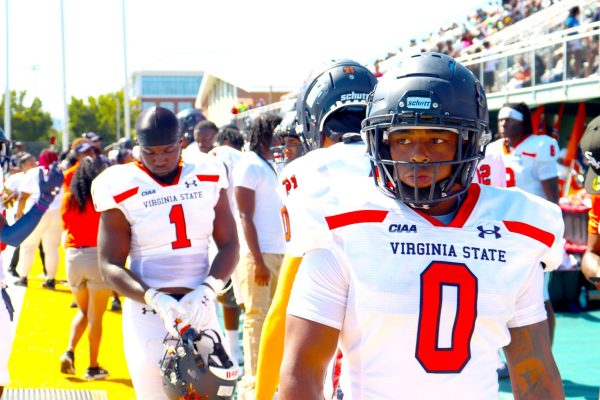 The Labor Day classic set the tone for the season. After the win, the Trojans fans took to Instagram to congratulate the football team for their amazing first win. Calling Norfolk State "lil" state after the 33-24 win and putting a little heat on years of rivalry. Fans posted memes and hash-tagging #HAILSTATE under other media posts about the win.
  If anyone missed the first two games, there will be plenty of time to see the new and improved Trojans in action, with upcoming home games against Livingstone College, Elizabeth City University, and with the homecoming game against Bluefield State.
Story continues below advertisement
The Trojans fans are sure to be lined up waiting to see the football team take yet another victory. With the new season starting it gives fans plenty of time to come out and support their fellow Trojans and show off their school spirit as they cheer on the team to victory.
Games are slated for every Saturday for the next eight weeks; fans can check the football schedule on the Virginia State University Athletics website – www.govsutrojans.com. 
To stay informed on upcoming games and events along with ticket information and other information about the team, also check out the page.
The homecoming game against Bluefield State is on October 14, so be sure to get tickets before it's too late.
If fans want to travel and support the football team, there are plenty of away games. The next away game against St Augustine's University is on September 16 in Raleigh, North Carolina. and the game against Bowie State University in Bowie, Maryland is on October 7.
Fans can follow the Trojan sports page (@vsusports1882) to hear more about upcoming football games, soccer games, lacrosse games, and so forth for the new season ahead.