One spark kept her going
Senior Ariel Simmons balances job as hairstylist with school
Ariel Simmons is originally from Waldorf, Maryland, and currently attends Virginia State University as a marketing major. Besides being a student at Virginia State, Simmons owns her own side business, off campus, where she is a hairstylist.
She offers many different services including braiding, sew-ins, color and cut. She has been doing hair for over seven years now and started off by going to cosmetology school at her high school, but for the most part she is self-taught.
"My first client was my mom. Once I started doing my mom's hair something in me just sparked to wanna keep going," Simmons said.
After doing her first client's work, there was a spark of motivation to help her keep going.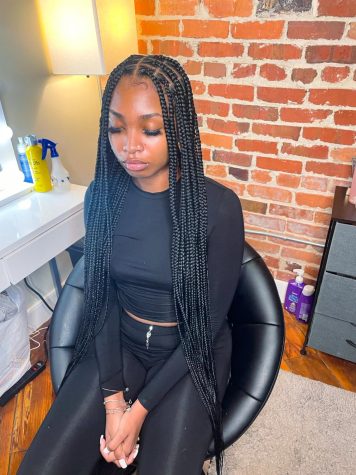 Since she has started her business, she has realized that in her eyes everything she does is work.
"Everything is work to me. I'm always looking for new opportunities. Time is money to me, when I'm doing things I think about how I'm spending my day helping my financial goals," Simmons said. "I just started a wall above my calendar where I put post-its of daily affirmations/motivation. Some are 'Trust God,' 'Time waits for no one,' and 'they will remember how you made them feel,' which is sort of a famous Maya Angelou quote."
During her sessions, Simmons enjoys listening to music, as well as conversing with her clients. Depending on each client, she tries to get to know them, so they feel more comfortable.
While preparing for her client she cleans and sets out the hair that she will be working with.
"I also always purchase the hair for my clients that are getting braids. The reason for that is certain braiding hair picked out from an untrained eye can be difficult for me to work with," Simmons said.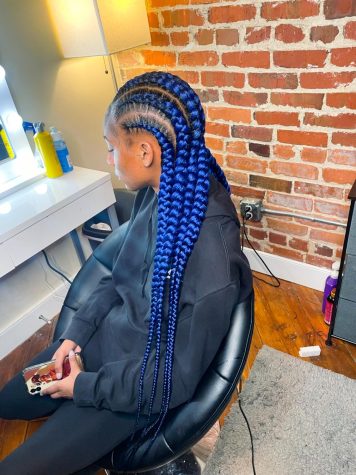 For Virginia State students, Simmons offers transportation from the school to her business for those who aren't able to find rides.
"I know as a freshman and sophomore you aren't going to have a car, but you're going to want your hair done. It is right up the road for me, and it's not that much of an inconvenience for me. Ubers are also very hard to find around here and are more expensive," Simmons said.
Simmons is an inspired student that is looking forward to achieving all of her goals in life, starting at Virginia State. In the next couple of years, she plans on going to grad school in Atlanta where she also wants to open up her new shop, where she and others can have income opportunities.