Wellness Days added to academic calendar, replace Spring Break
Due to the rise of COVID-19 cases, Virginia State University is replacing Spring Break, which is usually held from Mar. 6 through Mar. 12, with more Trojan Wellness Days.
Along with Spring Break comes with it the possibility of students further being exposed to Covid, as they leave and return to campus. Wellness days will hopefully provide the needed break and reduce the risk of exposure.
On a Trojan Wellness Day, no classes are held, and faculty can take the day off. According to an article by Virginia State, the goal of Trojan Wellness Days is to "mitigate the increased loneliness, stress, anxiety, and depression, in part caused by the COVID-19 pandemic."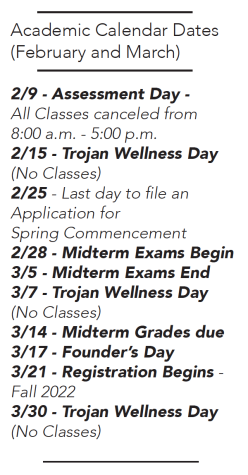 While students would still have days free of instruction on Trojan Wellness Days, many are disappointed with the change.
"I believe that the University replacing Spring Break with Trojan Wellness Days takes away from the excitement and relief that students are supposed to get in the middle of the semester," said freshman Political Science major Malaika Shields.
Others understand that the university is in a tough situation and faces a dilemma in light of the recent orders from the state about masks and vaccines.
"I sympathize with the Administration having to make decisions of this nature in an attempt to neutralize the possible outbreak of COVID-19 campus-wide," Mass Communications Office Manager Ms. Rose Coley said. "It was very considerate of them to provide Wellness Days for the VSU Community. That action shows that they consider the safety and wellness of the VSU Community a top priority."
In the fall, the University gave students a Wellness Day and brought a yoga instructor and a massage therapist on campus for the students. In the future, some students want to see more stress relieving activities.
"The University should ask students want they would like for each wellness day," Shields said. "For example, they should ask the students if they want an art workshop, a music events, etc. Anything that students would collectively want to participate in that makes us feel like we are live and still get to enjoy our lives now while we are working towards the next chapter of our lives."
The decision to replace Spring Break with Wellness Days has been met with scrutiny from students.
"I believe that the University should retract their decision to change our Spring Break into Wellness Days," said freshman Computer Science major Darien Walker. "It's inconsiderate. Many students use that time to go home and see their family or get in some much needed rest and relaxation. Some students have to cancel plans they've made months in advance."
Some students feel like Spring Break gave them a chance to get away.
"The point is to reward students with a break for working so hard and to give them an entire week to not worry about assignments, meetings, internships, and just live life as young adults," Shields said.
View Comments (1)
Donate to The Virginia Statesman
Your donation will support the student journalists of Virginia State University. Your contribution will allow us to purchase equipment and cover our annual website hosting costs.