Women's Appreciation Month celebrates 8th year
It is well known that Women's History Month takes place annually in March, but on the Virginia State campus, it is known as Women's Appreciation Month. The university's women hold several events throughout at the month – all with a focus on celebrating and uplifting the women on campus.
While it may seem like VSU's Women's Appreciation Month events is common knowledge on campus, this year is only the 8th year of the program. When Women's Appreciation Month, or WAM, first started on campus, it wasn't a month of events – it was only a day.
"That's what's crazy about it, it was a two-hour day event," said Cathleen Braxton, the founder of Women's Appreciation Month and Director of Student Conduct at Virginia State University.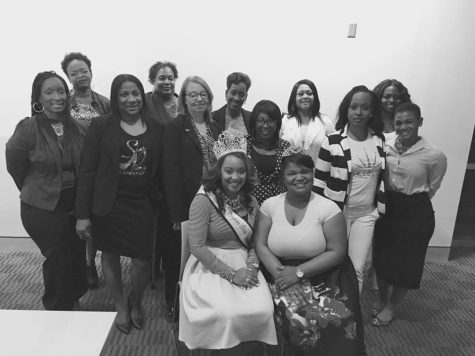 Braxton first thought of the idea of Women's Appreciation Month two years after she arrived at the university.
"When I first arrived on campus, I was the violence prevention coordinator. I worked under the counseling center," Braxton said. "So I was receiving all of these young ladies in my office, and all the conversations we had, and I was wondering, 'What do y'all do other than be a part of your own organization?' Everyone's organizations are separate. I started researching what I could do to bring some kind of unity to the young ladies on campus, other than making them collab on programs. So I thought, wait, it's Women's History Month. [I realized that] we women need to appreciate each other on campus, so I changed the name to Women's Appreciation Month."
The first event ever for WAM was a two-hour event hosted by the 87th Miss Virginia State University Lauren Papillion and a Delta Sigma Theta member Nia. The event ended up going for three hours in Hunter-McDaniel, where students could buy from vendors and attend a panel.
"It was so hot in that room because it was so packed, and everyone enjoyed it," Braxton said. "I got so much positive feedback from it. It was just women across campus – staff, faculty, students – that came to this particular event."
The WAM celebrations went from first a three-hour program, to a week-long, then a week and weekend event and so on, until the program turned into a month celebration.
"I just continued and continued, and each year I got more buy-in," said Braxton. "Each year I got more students, to the point where now, my job is to just sit back and support the students. And that's what I wanted to see –- the unity within the young ladies on this campus."
To put on WAM each year, a committee is needed to plan, organize, and host events. This year's WAM committee is made up of over 60 students, "all from different student organizations with women representation," according to Braxton. Academic organizations are also involved. Every program hosted throughout WAM is student-led, except for the opening and closing event.
With each year's program participation getting larger and larger, a challenge of what ideas should happen during WAM arises.
"The biggest challenge is that we can't get everyone's program done in the month of March," Braxton said. "You have students that come in with a ton of opinions and ideas, but it's only one month, and we can't get them all in one month. Participation is never a challenge, it's more of everyone wanting a specific event."
Braxton believes that Women's Appreciate Month is about the people who paved the way for her.
"Each person has paved the way for someone. My job is to continue to pave the way for those who are after me. That's what Women's Appreciation Month is about for me. I feel a need to share my tools that other women have given to me in the past. We lose if we don't share our tools. I have the need to give [students] what someone gave me, because at the end of the day, I want [you students] to be better than me."
This year's WAM schedule of events is jam-packed with activities for women students to do on campus. A talent show, generational panel, etiquette brunch, and so much more has already taken place this month. Students can still look forward to more events at the end of March, especially the Diner En Blanc event on March 31.
"It is an event from Paris," Braxton said. "You get everyone together, all wearing white, and have dinner at a long table. It's going to be the first time happening on an HBCU campus. We drop the location two hours before the event, so you have no idea where you are going, but you know have on all white and that you must attend."
To see the full schedule of WAM events, students can visit @ladiesofvsu on Instagram.